With version 1.2 the changeover to PAYWARE takes place. This means that apron:pilot remains free of charge only in the basic version. More advanced features, more users, aircraft and storage space are only available with a paid PREMIUM package.


Why the change?
To put it simply, the reason for the change is the pleasingly good growth of the application. Several hundred users now use the system every day to manage operational processes. Every day there is a lot of data traffic to and from the system, upload & download of files and a lot of emails are sent by the system every day.

Especially this increased data turnover, but also the meanwhile grown number of functions & features in the application and the necessity to secure the profitability also in the long run, require the change to a paid software.


What will remain FREE, what will become PAYWARE?
The basic version will remain free of charge. The free version can be used for a maximum of 10 users, one aircraft and a maximum of 25 MB of storage space. In addition to these restrictions, however, there will also be a limitation of functions & features. Details below.
Which PREMIUM packages will be available?
With the launch of version 1.2 there will be three PREMIUM packages: BRONZE, SILVER and GOLD.

All three PREMIM packages contain the PREMIUM functionalities. The three packages differ mainly in the number of possible users, aircraft and the available storage space (for aircraft files, user files etc.). With PREMIUM GOLD, there is no restriction on users and aircraft, which is why this package is aimed primarily at larger clubs.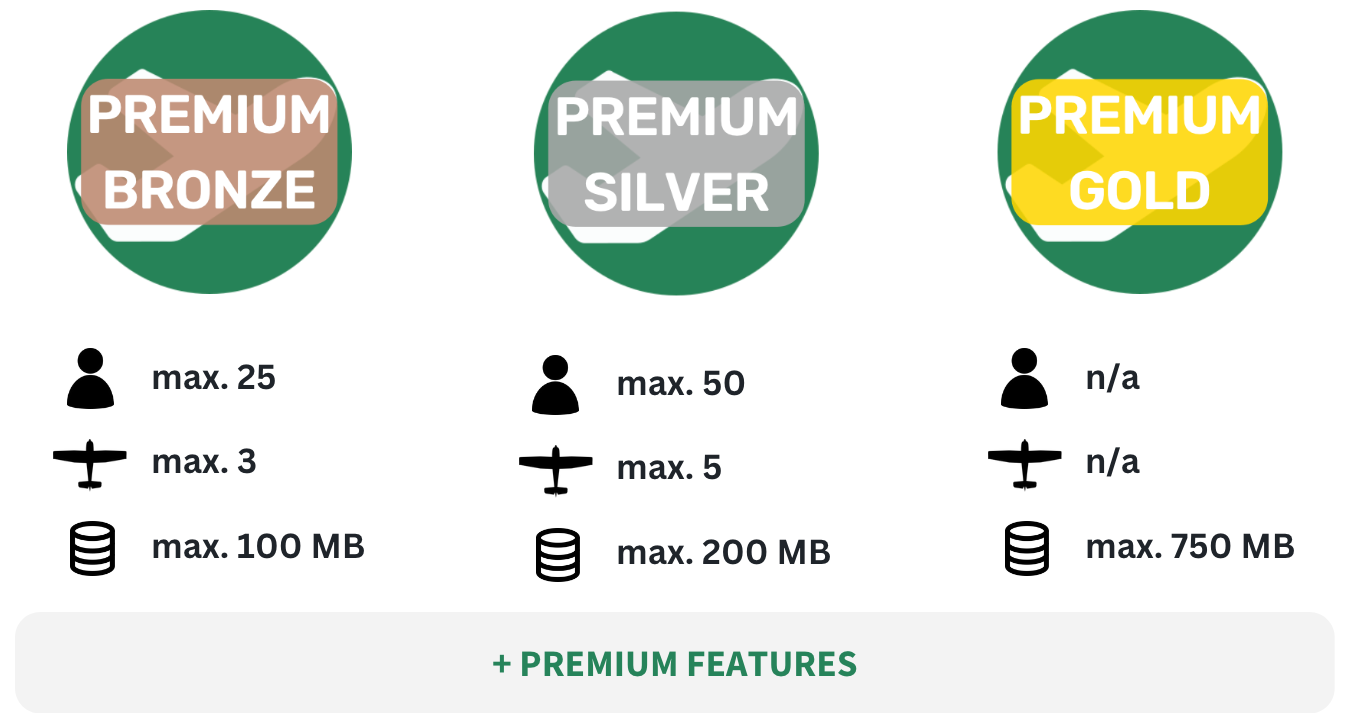 Which functions will be included exclusively in PREMIUM?
Apart from the restrictions on the number of users and aircraft and storage space, the following functions are so far (as of March 2023) only available in one of the three PREMIUM packages: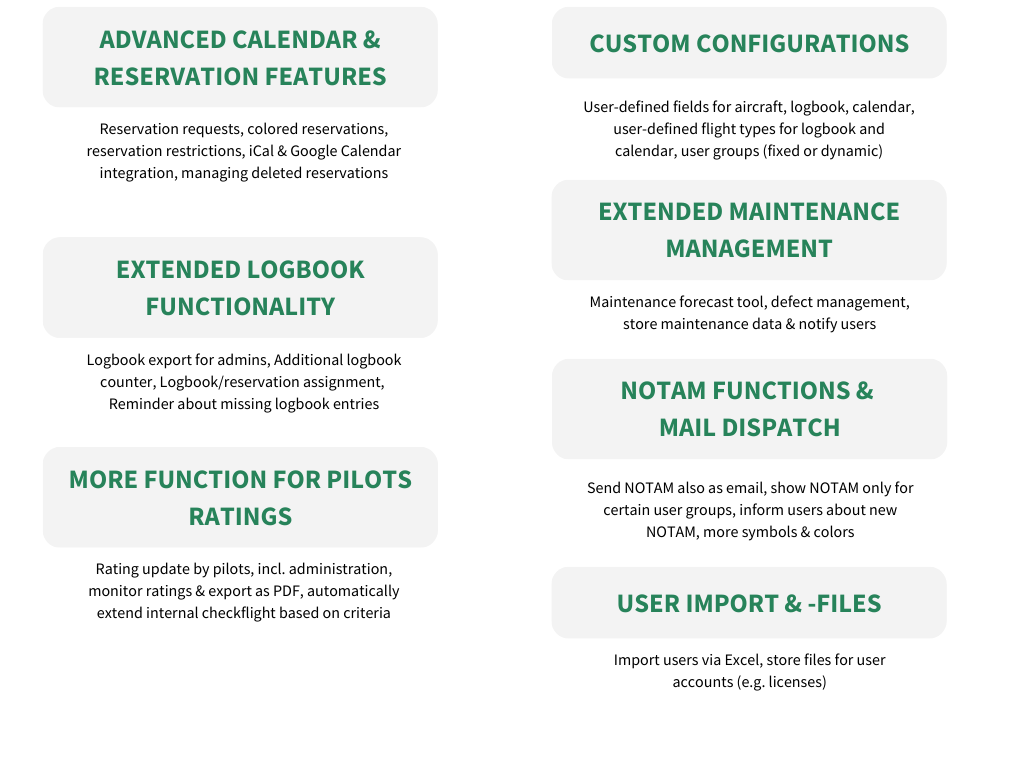 PREMIUM must be subscribed to by administrators per group. There are no further costs for users. The packages can be subscribed to on a monthly or yearly basis, the yearly subscription brings an additional price advantage.

As with the billing module, the monthly subscription can be cancelled monthly.

Here are the details:
Will there be benefits for existing user groups?
Yes, for existing customers we will additionally distribute a promo voucher for an annual BRONZE, SILVER or GOLD subscription. This will be sent by mail to the administrators of the groups before the delivery of version 1.2.


What effect does PREMIUM have on the INVOICING MODULE, which is also payware?
Nothing will change in the invoicing module. All groups that have subscribed to and used the invoicing module so far do not have to expect any restrictions in functionality. It is still possible to use the free version with the billing module.