Invoicing your pilots -
an easy task!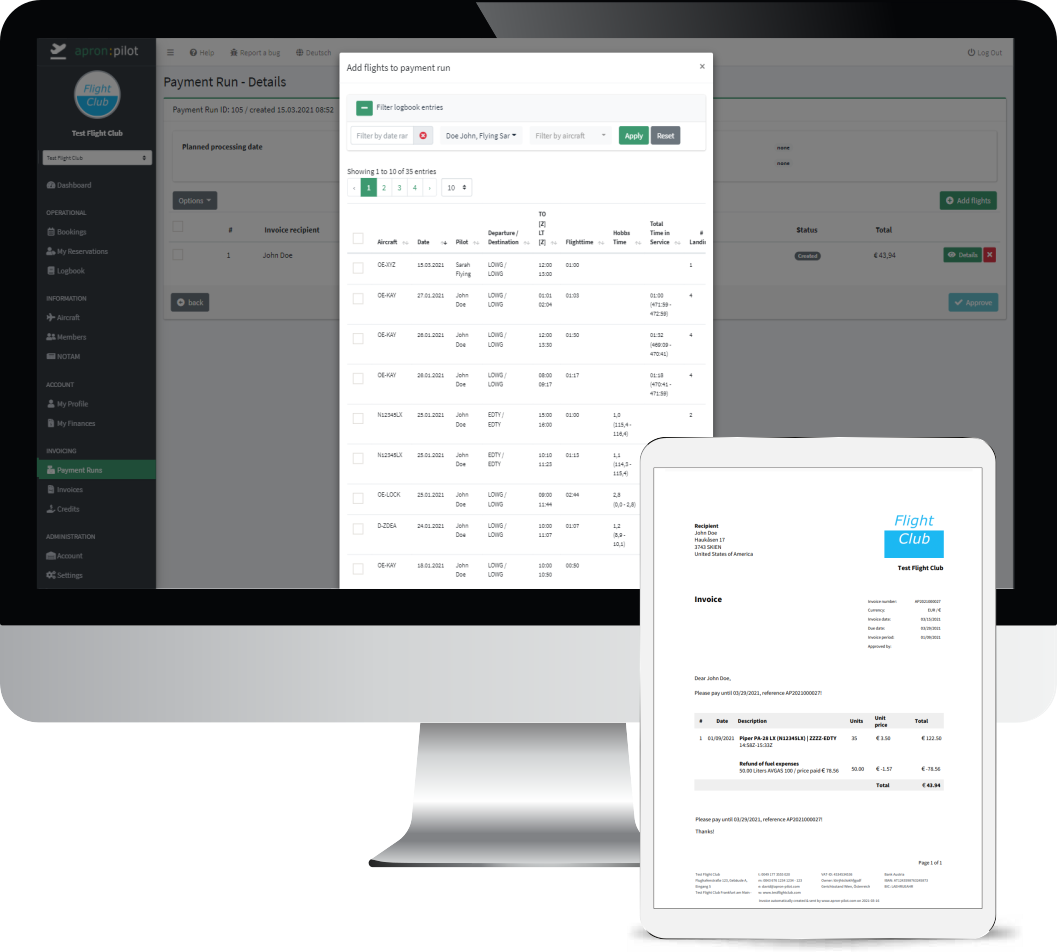 Digital invoicing with
LOW WORKLOAD
Invoicing flights can become a huge task. Time calculations, pilot specific credits, individual aircraft prices, fuel refunds and more can create complexity. The invoicing module combines all these functions flawlessly and assists during your invoicing activities!

Create electronic invoices based on digital logbook entries or manual invoices with custom invoice items
An approval process prevents sending by mistake
Pilots receive digital invoices as PDF via mail and via the application under "My Invoices"
Automatically consider credits, fuel refunds and pilot specific aircraft prices
Processing of other costs and custom invoice cost or credit items gives more flexibility
Exporting of invoice data & payment run data for further processing in spreadsheet tools
Logbook data
AS BASE FOR INVOICE
The core for invoicing are digital logbook entries, representing the flights done by your pilots. Each entry represents an invoice item for processing.

Pilots enter the flight information, including fuel refunds and other costs into the digital logbook.

Pilots can upload fuel cost receipts directly to the flight from their smartphone or tablet, reducing extra steps to coordinate refunds.

Invoicing can be done in real time, as soon as flight data is available. Logbook information is considered, until the flight is invoiced.


Manual invoices can be created to handle non-flight related costs, e.g. club fee  or general charges to pilot
Only a few easy steps to initiate the process of invoicing via apron:pilot!
Select flights
Based on various criteria, you select the flights you want to invoice. It can be all flights or only flights from a particular period. It's up to you!
Create payment run & invoices
Based on the flight selection, the system automatically creates an invoice per pilot with all flights to be invoiced.
Approve & schedule
Each invoice can be reviewed, adapted or extended. After approval by the administrator, you forward the invoices to automatic processing! That's it!
Electronic invoices
AS PDF

The electronic e-mail is automatically transformed into a
PDF
. A
preview
is available at each step of the process, allowing error correction and surprise prevention.
The PDF is packaged and
sent to the pilot via e-mail
as an attachment (Sending can be prevented, if required).
Pilots can also access the electronic e-mail via the "My Invoices" section in the application directly and mark them as paid to allow two-way communication - both is configurable and can be restricted.

Customizing options include: two customizable columns in the PDF footer, individual introduction text, customizable end text (e.g. for bank information) and individual / per invoice comments (printed on PDF)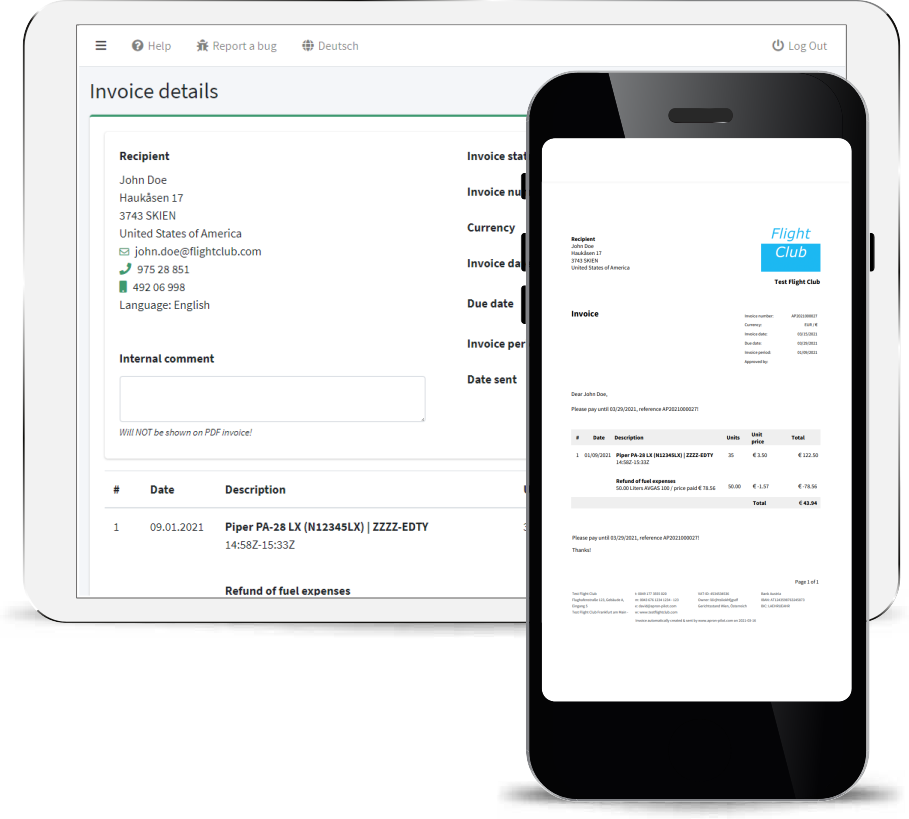 Invoice credit management for pilots (e.g. one time payments, entry payments etc.)
Individual aircraft prices if credit is paid (e.g. buying a certain amount of flight hours results in lower minute prices)
Negative invoice amounts result in credit for the next invoice and are considered automatically
Different aircraft prices per pilot can be entered, e.g. having multiple clubs using your aircraft.
Pilot credits &
aircraft minute fees
Individual credits for pilots can be created and linked to accounts. These credits are then considered in the next upcoming invoice.

Additionally individual aircraft prices resulting from credits can be entered and will be used for processing.

If different aircraft prices apply for pilots, they can be entered for each pilot individually.
Custom invoice items*

Each invoice can be manually edited. Custom invoice items - being costs or credit - can be entered. If pilots didn't clean the aircraft, you'll add a custom item. If they cleaned it very thoroughly, you might consider adding a credit.

Manual invoices also allow you to created invoices without a flight relation based on these custom invoice items: for example the yearly club fee or any other rental related charge.

It's easy & up to you!
* only available with advanced- or business-plan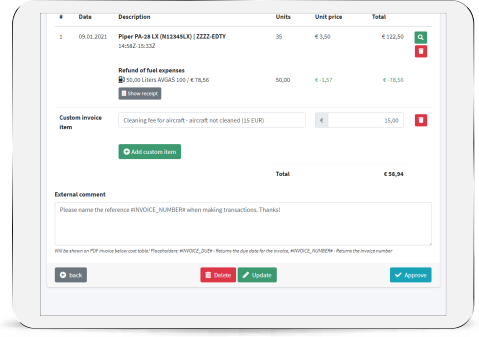 After creating invoices and payment run data, it might be necessary to export these data into a spreadsheet - for example if further processing in other software or internal bookkeeping system is requested.

The invoice module comes with export functionality, allowing to export data to a spreadsheet file for further data manipulation or statistics.

* only available with advanced- or business-plan
Spreadsheet export
Export to spreadsheet file (.xlsx) of invoice data, payment run data and credit information
Collective PDF download
The collective PDF download allows to download each invoice PDF automatically combined into one file for printing or archives.
Definition of aircraft- and/or pilot-specific fees, calculated based on flighttime or logbook counters (e.g. total time in service, hobbs)
Four fuel refund options (Refund pilots either nothing, the full amount, up to a defined maximum amount or a fixed price per unit)
PDF invoice customization include two custom columns in the footer, custom introduction and closing text paragraphs with placeholders (e.g. invoice number, due date & more) and a custom logo & text on top
Invoice creation as regular invoice or stating the tax value as a tax invoice (tax invoice only for business-subscription)
Customizing of invoice number format with predefined placeholders like month, day, recipient name, and more (only for business-subscription)
Configuration & customization options

Each flight club, aircraft owner or flight school have their own set of criteria to create invoices. The invoicing module brings a standardized way of handling invoices with the ability to configure various options.

The goal is to make invoicing as easy and quick as possible without the need of hours of configuration and setup work.
While the base version of apron:pilot is free to use, the invoicing module is a paid additional module for the application,
available in the following three plans
10 invoices/month included
€ 0,60 / additional invoice
Create & send PDF invoices
Pilot specific aircraft prices
Handle invoice credits
Fuel refunds
25 invoices/month included
€ 0,50 / additional invoice
Create & send PDF invoices
Pilot specific aircraft prices
Handle invoice credits
Fuel refunds
+ Custom refunds
+ Custom invoice items
+ Exporting functionality (XLS, PDF)
+ Manual invoices, without flights
+ Separate invoice address for pilots
+ Additional counter for invoicing
Business
€ 12 mthly. /
€ 129 yearly
Unlimited invoices/month
No extra charge
Create & send PDF invoices
Pilot specific aircraft prices
Handle invoice credits
Fuel refunds
Custom refunds
Custom invoice items
Exporting functionality (XLS, PDF)
Manual invoices, without flights
Separate invoice address for pilots
Additional counter for invoicing
+ Custom invoice number format
+ Increase/Decrease consecutive number
+ Tax invoice creation
Subscription duration is monthly / yearly, cancellation is possible anytime, a grace period applies, no refund of unused time. Payable by major credit card or SEPA 

Plan overview & details
Check out the details and differences between the three subscription plans.
Monthly Subscription, Price

Yearly Subscription, Price

Included invoices
If the number of included invoices is reached, additional invoices sent to pilots will be
charged sepeartely (except business plan, see below)

Additional charge
Charged per sent invoice, outside of the included invoices from package.

Create & send PDF invoices
After editing and approval an invoice is transformed into a PDF file.
The PDF file is sent to the pilot via mail and also stored under "my invoices".

Pilot specific aircraft prices
Pilot specific aircraft prices, also based on an invoice credit, can be defined.
Counter-dependent invoicing is possible (e.g. Hobbs)

Custom invoice credits per user
Each pilot can be assigned with an invoice credit, that the pilot paid. Also if invoices result in a credit, this credit amount is stored and accessible to the pilot.

Fuel refunds per flight
External refueling and uploading the receipt allows fuel refunding for invoices.

Custom refunds
Pilots can attach other cost receipts, e.g. oil or TKS fluid, which are then shown in the invoice for processing.

Custom invoice items
Enables to attach custom invoice cost or credit items, e.g. refund or extra charge for aircraft cleaning.

Export functionality
Allows the export of invoice and payment run data, as well as creation of a collective PDF

Manual invoices
Create invoices without a flight and use custom invoice items to generate chargable invoice items

Separate invoice address for pilots
You can define a separate invoice address for pilots, which is then used for invoicing instead of the private address

Additional counter for invoicing
If used for an aircraft, the configurable additional counter can also be used for calculation of the flight costs.

Custom invoice number format
If required, the generated invoice number format can be configured with a number of placeholders and data values (e.g. free text, month, recipient name and more)

Increase / decrease the consecutive number
Usually invoices are also sent outside of apron:pilot. For these situations you might want to change the consecutive invoice number manually to align with your external system

Tax invoice
For the creation of tax invoices this functionality is required. It allows to enter the tax value and distinguishes between net and gross totals.
Start your 30-day trial today!
The subscription is possible directly within apron:pilot, Register, login & go to your account section to retrieve access!